Aslan's Past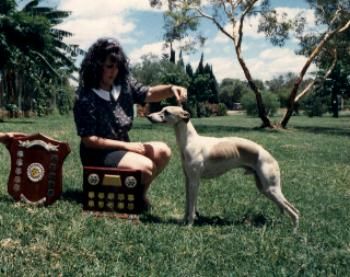 Ch Grau Aceo Diamonds
'Bobby'
22.02.88 - 15.7.98
Ch Denhills Deligate (Imp Uk) x Doriana Dulcine (Imp NZ)
No 1 Whippet Australia 1989 (National Dog Magazine Pointscore Systerm)
Bobby was the focal point of all my breeding until the year 2000 and I thank Pat Adam of the Grau Kennel for the wonderful start she gave me in whippets. He excelled in whippet type with a beautiful outline, gorgeous head and expression and correct, true movement. These qualities have fortunately been passed on to his children and grandchildren. He was AUSTRALIA'S TOP WHIPPET in 1989 (National Dog Magazine Point Score) - living and showing in Mt Isa (far west Queensland) at the time, this was quite an achievement. He was also a BEST IN SHOW WINNER at 8 years of age. He was my best friend for ten years and an absolute joy to show and own. He was taken from me too soon and I still grieve.
'When I woke up this morning, wiped the sleep from my eyes
I found a new day dawning and suddenly I realised.....you're gone

Tell me I was dreaming, that you didn't leave me here tonight....

It was just my imagination telling lies - tell me you didn't say goodbye'

Travis Tritt.
Major Awards:

1 Best in Show, 4 Reserves in Show, Lou Cristaudo Trophy for Dog of the Year Mt Isa 1989,
Best Junior of the Year Mt Isa 1989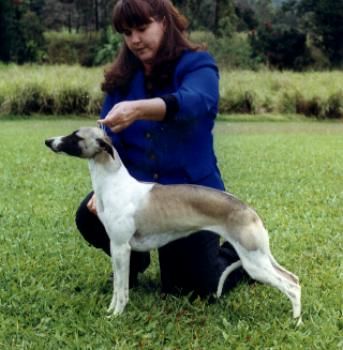 Ch Aslan Queen O'Diamonds 'Chelsea'
27.01.97 - 19.01.05
Ch Grau Aceo Diamonds x Aslan Dark Assault
Chelsea was shown once as a Baby Puppy for a Reserve Baby in Group. Then we all had a break from showing for 12mths. It was worth it though - in 5 months after returning to the ring Chelsea had her title, 2 Best in Group, 4 Reserve in Group numerous in-show awards and her first BEST IN SHOW under Mr Doug Nairn. In 1999 she was 'WHIPPET OF THE YEAR' in the Central Queensland Whippet Point Score. She continued to win but missed a lot of the show year in 2000 by having pups in the middle of the season. Then in 2001 she was usurped by her daughter Layla. Chelsea didn't mind - even though she loved the ring, she actually thought getting to stay home on the couch was a GOOD thing. She had a very high opinion of herself and didn't feel the need to continually prove that to everyone else.
Major Awards in a 2 1/2 year career: 1 Best in Show, 8 Bests in group, 12 Reserves in group, Whippet of the Year and Best Bitch 1999, Runner Up Best Bitch 2000, CQ Whippet Pointscore
Contact Details
Lana McCrindle
Mackay, QLD, Australia
Phone : 07 49 591 353
Email :
[email protected]