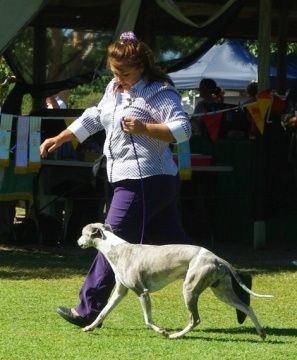 Hi, I'm Lana. I began showing dogs in 1973 and owned Dalmatians and then Dobermans until 1984.
I had great success as a junior handler and have been fortunate enough to handle many breeds of dogs for many people in my career.
My interest in whippets began in 1976 when I saw the famous Eng and Aust Ch Dondelayo Statue win BIS at the Spring Fair in Sydney and the Aslan Kennel was formed in 1981.
The name comes from the character "Aslan", the lion in C.S. Lewis' Narnia Chronicles. He is gentle but strong, wise, reliable, a formidable hunter when the situation necessitates it, playfully affectionate, extremely beautiful, people are in absolute awe when they see him and are inexplicably drawn to him. These are characteristics I also see in whippets - hence the choice of name.
I bought my first whippet in December 1988. This was Grau Aceo Diamonds who soon became a CHAMPION, a BEST IN SHOW WINNER and my constant, ever-loving companion.
I have not bred very many litters in my 25 years of owning whippets but this is through choice not inability. I have lived in quite a few geographically remote places over the years and finding the right kind of homes for my pups - in particular show homes - has often been difficult. Up until recently, the only dogs I'd bred that remained in the show ring full time were ones I'd kept for myself - but now I have bred FOURTEEN Australian champions and of those, Chelsea, Layla, Beau, Aime, Dino, Cara, Tiara, Ryder, Cilla and Riff are all
BEST IN SHOW and/or RESERVE IN SHOW winners at
All Breeds Champ and/or Open Show level.
I have also bred one Indian Champion - Ind Ch Aslan Indigo Girl - "Cami"

I have also bred two TRACKING DOG titled Whippets, Nockie and Freddie, only the second and fourth Whippets respectively in Australia to gain this title (TD).
In 2010 Freddie qualified for his TRACKING CHAMPION title
becoming the FIRST EVER WHIPPET IN AUSTRALIA to gain this.
Nockie followed in 2011 with her TRACKING CHAMPION title
becoming the SECOND WHIPPET IN AUSTRALIA with this title.
The Baker Family who own, love and train these two whippets are to be highly commended for their efforts.
My early stock was line bred to Ch Denhills Deligate (Imp UK) but in 2000 I began to weave in some TAEJAAN lines with a great deal of success. In 2005 I realised a dream and imported the black and white, Gilnockie Ace of Spades (Imp UK). His wonderful pedigree, incorporates some very well known and respected English dogs, and from only two Aslan litters is the sire of one Australian Champion and one Indian Champion. From a litter of only two pups for Irewa kennels he produced one champion. In 2012 he was used at stud by Pat Adam of Grau Kennels and she has retained a black & white bitch "Dolly". Cash passed away in 2014.

In 2014 a long time dream was achieved with the birth of a fantastic litter of pups from imported semen from Am Gr Ch Burnt Sienna Midsummer Night bred by Lisa Winder of Sweden and co-owned by her with Patience Renzulli in the USA. The dam is Aust Ch Aslan Clad in Black, a daughter of Gilnockie Ace of Spades (Imp UK). Three dogs have been retained at Aslan and have already made a great impression on the show scene. One male is owned in partnership with Chrissy Cox in Brisbane and will embark on his show career in earnest in 2015
Aslan produces consistent type, soundness, sweet temperaments and quality.
Contact Details
Lana McCrindle
Mackay, QLD, Australia
Phone : 07 49 591 353
Email :
[email protected]
92923 Visitors